The Good Food Club is a club for purchasing top quality produce at wholesale prices through the power of bulk buying. Buying local whenever possible, and relying on volunteers to help with many aspects of the club, keeps overhead costs low. These savings ensure that club members get the most value for their dollar.
The Good Food Club contains a variety of nutritious vegetables and fruits each month. The produce changes from month to month and season to season to ensure member satisfaction and to get as much food as possible for the value of each order.
The Good Food Club is open to anyone in the communities of Medicine Hat and Redcliff. Members can choose to order a box every month (or more than one box). Orders for the following month can be made on pick-up day or by the first Thursday of the month. Due to COVID restrictions, payment and orders can only be done with cash or cheque on pick-up day or placed online on our secure website using credit card or PayPal.
Pick-up day for the Good Food box is the 2nd Thursday of each month.
An on-site exchange table is available on Good Food Club Pick-Up day for those individuals who wish to exchange a particular food item for another at the ST. BARNABAS CHURCH DEPOT ONLY. Each box contains a copy of Food Talk and Nutrition Times Newsletters.
Any box not picked up on pick-up day is donated to either the Salvation Army Emergency Shelter, the Root Cellar Food & Wellness Hub or a family in need. The payment for that box is not carried forward. Orders can be picked up by anyone designated by the club account member.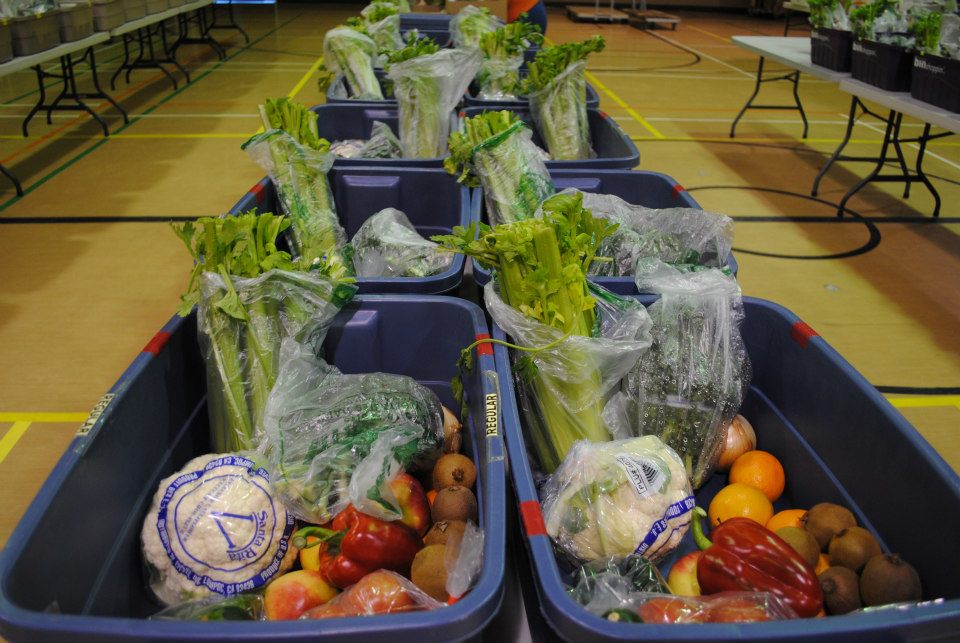 Boxes are available in three sizes: small ($10), regular ($15) and large ($20). Members can purchase as many boxes as desired per month.
The contents of a box varies each month depending on what is in season, what is available, and the cost of produce. Newsletters with recipes are sent in the boxes.
On average the boxes will supply enough produce to feed for a week:
small 1-2 people
regular 3-4 people
large 5-6 people
The Good Food Club is open to anyone in the community!
There is an annual membership fee of:
$10 for volunteers (8 hours or more of volunteering required throughout the year)
$30 for non-volunteers
Membership fees are waived for college students and Best Babies & Bridges clients.
After June 30th membership fees are Volunteer: $5 (4 hours of volunteer time); and Non-Volunteer: $15
The membership year runs from January to December.
The following links are the Guidelines and Registration Forms for 2022
2022 Good Food Club Registration Form
2022 Good Food Club Membership Guidelines
Completed membership forms can be dropped off with your membership payment and first month's box pre-payment at Community Health Services, 2948 Dunmore Road SE, during regular office hours.
Payment is due on or before the first Thursday of each month and members are encouraged to pay for next month's box when they pick up their order.
There are many opportunities for volunteering throughout the month and on pick-up day.
To sign up for upcoming events and Good Food Club pick-up day, click here.
VOLUNTEER JOB DESCRIPTIONS FOR THE GOOD FOOD CLUB
Throughout the Month
Host a workshop or lead a community kitchen. Call the Food Security Coordinator at (403)502-6096 for more information.
**CANCELLED DUE TO COVID** Come to an advisory meeting. Advisory meetings are held at Hillcrest Church, (3785 13th Ave. SE, Room 22 Entrance 5). The meeting is held on the first Thursday of each month at 1pm. Volunteers receive an hour towards their volunteer requirements when attending these meetings and also have an integral part in making decisions about what foods are chosen for the box, as well as making crucial decisions regarding the operation of the club.
Price check the produce for the following month at one of six grocery stores.
Promotions - We always seek new ways to share information about this wonderful program. And what better way to do that than through the knowledge and first hand experience of the Club Members. Members are encouraged to keep their eyes and ears open for community events and the potential to promote the program. Members are able to contribute by setting up or providing assistance at a promotion table, hand out brochures and membership applications, and generally to serve as an information person for those interested in joining. Volunteer members are able to fulfill their mandatory 8 hour volunteer commitment by doing approved promotion for the Club at events such as Canada Day, the Stampede, or Flu clinics.
Pick up Day at Main Depot - St. Barnabas Anglican Church Hall (635 4 St SE - please use rear entrance facing 5th St SE)
Depot Coordinators **This position provides the coordinator with a free small Good Food box each month** We have various depot locations in the Medicine Hat area available for people to pick up their box. The coordinator will be responsible to stay at the depot location for the duration of the pick-up time to distribute food boxes, help pack up people's produce, write receipts and accept cash and cheques for next pick-up day.
Packing Coordinator 11:15am-2pm
The Packing Coordinator is responsible to provide instruction and supervision to packers and receipt writers, as well as checking the produce quality as it arrives and making any adjustments to quantity as needed. The coordinator shall ensure that the correct quantity of food is in each box, monitor the volunteers and ensure sanitation and safety.
Set-up and produce packing 12pm-2pm
This includes setting up tables, counting and putting out Good Food Boxes onto tables, putting out carts, and help package and pack produce into each box. Volunteers will be required to be on their feet or mobile with light to heavy repetitive lifting required.
Depot Deliveries Coordinator 1:30pm-2pm
The Deliveries Coordinator ensures the box count and delivery orders are correct and loaded for the delivery service pick-up. Repetitive heavy lifting (20lbs) required.
Receipt Writers 2pm-4pm & 4pm-6pm
Receipt writers are responsible to write receipts for boxes purchased for the next pick up day, handle and accept cash and cheques, accept payment for extra produce, hand out Club applications, and in general serve as welcome person to Club members. Other duties include stamping and tallying the receipt books, discussing Club questions and comments with members, distributing surveys, and other Community Food Connections news and materials.
Re-Packers 2pm-4pm & 4pm-6pm
This job requires the volunteer to help cross-check orders, pack bags and boxes for Club members as they arrive to pick up their produce. Also, to clean and put away the boxes for next time. The evening shift also requires help with putting away any remaining boxes, wipe surfaces, put away supplies and load any extra produce for donation purpose. Moderate repetitive lifting required.